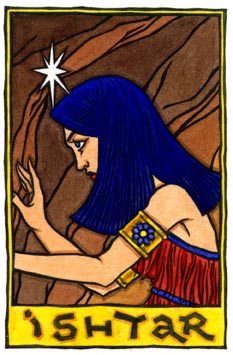 This week by luck of the draw we get Ishtar, the Babylonian (Semitic) Goddess of love and war. She is quite similar to the Sumerian
Inanna,
and many of the same stories are told of both Ishtar and Inanna, including the Underworld journey I related in the Inanna Goddess of the Week entry linked above. Her name means "Star" and She is the Goddess of the planet Venus as morning and evening star. She is one face of the Great Near Eastern Goddess Who includes both the Canaanite
Ashtart,
better known perhaps by the Greek version of Her name Astarte, and the Astoreth of the 'backsliding' Hebrews of the Bible.
She is known for Her power and Her volatile temper; when She arrives at the Gates of the Underworld, which are locked against Her, She threatens not only to smash them down, but to raise the Dead and release them into the land of the living, where they will not only outnumber the non-dead, but will also
eat
them. (Say it with me:
BRAINS!!)
The gatekeeper, faced with this sort of a threat, wisely capitulates and lets Her in.
Ishtar also plays a part in
The Epic of Gilgamesh,
the story of the semi-divine hero and founder of the city of Uruk. In it, She approaches the terminally patriarchal Gilgamesh with the idea of making him Her lover. He, however, rejects Her, first saying that it is because She is a Deity and he is not; but then he adds a round of insults to it. Ishtar is, unsurprisingly, not amused, and demands Her father Anu set the Bull of Heaven against him, again threatening to raise the Dead if he does not comply (again:
BRAINS!)
Anu, also, gives in; but Gilgamesh and his BFF Enkidu kill the Bull. As She stands on the walls of Uruk cursing Gilgamesh, Enkidu hurls a hunk of the dead Bull at Her, and then threatens Her with further violence.
She is famous for Her sexuality, and much is made of Her temple prostitutes, just how much She slept around with the Gods and the number of Her lovers and the bad ends they came to; but I'm just not feeling it. It sounds an awful lot like a smear campaign to me, with some good old patriarchal slut-shaming thrown in. This is, after all, in essence the same Goddess who leaned back against the apple tree and "rejoiced in Her wondrous vulva;" the one Whose loss to the Underworld caused all sex, mating and growth in the living world to cease, and without Whom all is stagnant.
The Babylonian versions of the tales seem to me to be quite concerned with putting a strong Goddess in Her place, and casting Her as inconstant, impossible to please, and tempestuous.
Another telling difference: in the Sumerian version of the tale, Inanna comes before Her sister Ereshkigal, the Goddess of the Underworld, "naked and bowed low." In the Babylonian version however, Ishtar is so enraged at having Her jewelry and clothing stripped from Her that She flies at Ereshkigal to attack Her.
Though Inanna is certainly capable of anger, it is depicted as warranted, even righteous (as when She returns to the world of the living to find Her husband has
not
mourned Her); in Ishtar, though, it is depicted as irrational and out of control.
I smell a snow-job. No wonder She is enraged.
So then what does this mean?
Pay attention to your anger this week. Especially if, as it seems the majority of my readers are, you are a woman, who is oppressed in any of a thousand ways and then told you are not allowed to be angry, and if you are, that it is not legitimate anyway. This is a lie.
You have the right to be angry.
Start with yourself. Try not to dismiss your feelings of anger. Acknowledge them. Acknowledging them, incidentally, does not mean you have to act on them; just that they must be accepted as real. Listen to them. Spend some time this week, if you can, looking at your own anger. Just look.
What does She say?
Find where you seethe. This is a great source of energy; but it must be listened to and taken into you as valid. It is a great, great source of power, I cannot stress that enough. It is the life-force, really, or what happens to it when shoved out of sight and declared a sin, or unseemly. Shine bright as Venus in your anger.

You will stand out in the dark sky as something beautiful, and illuminating, when you heed your anger. It is the beginning of enlightenment. This is about making the world right again; now the Dead walk the earth and all is topsy-turvy and chaotic. Reclaim your power, and put things to right.
Well, that is pretty strong, though hardly surprising to me as a radical feminist; and rereading this I feel I should probably have taken Her advice and not sugar-coated this entry as much as I have. That is part of validating my own anger, is it not? I will work on it.
The more I consider Her the more I can feel, can
see,
the red waves of rage pouring off of Her. It is reminding me of that supremely odd word,
carbuncle,
which can mean both a festering abscess and a beautiful red jewel. How to transform the former to the latter?
Any ideas?
To read more about Ishtar, go
here;
for Inanna,
here.