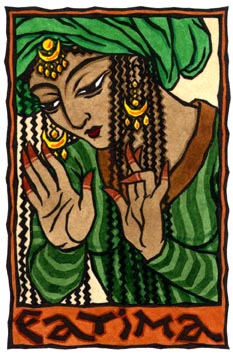 This week's Goddess card is Fatima, daughter of the Prophet Mohammed in Islamic legend. She is, properly, a historic figure around Whom a certain amount of saintly or divine qualities have accrued; and She is much revered in Islam, especially in Shi'ite tradition.
She was the only one of Mohammed's children to have surviving offspring; and the Fatimid Dynasty of the 10th-12th centuries claimed descent from Her (there are now, by some accounts,
millions
of people who trace their lineage back to Her). She is famous for passionately fighting for both Her husband's claim to the caliphate, and for Her own right to inherit Her father's property after his death. She died young, after suffering a miscarriage, a few months after Her father.
She spent Her last days mourning both Her father and Her two sons, who had been killed by a rival faction. She is known for Her tears and Her compassion, and it is said She will intercede on the behalf of women sinners on the Day of Judgment.
The
hamsa,
which in Arabic means "five" is a hand-shaped charm common to both Jewish and Islamic culture which is associated with Her, and so sometimes called "the Hand of Fatima." It is said to protect against the evil eye and likely predates both religions.
She has many titles, especially among the Shi'ites; and some of them are more than a little suspicious when viewed through a, hmm, Goddessy lens, shall we say. She is called the Mistress of Waters, and is said to have been able to perform miracles, one of which involved the use of Her "luminous veil" which resulted in the conversion to Islam of an entire clan of Jewish people. One of Her most common titles is
al-Zahra,
"The Luminous One;" another is
Umm Abiha,
"Mother of Her Father," both of which point towards Divinity; and reverence of Her may have ties with worship of an earlier Moon Goddess, though it is hard to say.
Now, this week is the week that includes Samhain, the end of one cycle and the beginning of another; and after all the darkness of the past few readings I thought this card offered some real hope. I have depicted Fatima here as a compassionate healer, about to use those famous hands of Hers. And in researching this post I found out that the
hamsa (chamsa
in Hebrew) amulet has been adopted by some Middle Eastern peace activists as a symbol of common ground between Muslims and Jews.
So with that as theme, I'd like to think this coming week will see calmness and understanding settling among people; or, given that the US elections are very close now and that now is
not
usually the time for the campaigns to be ratcheting down the rhetoric, perhaps She is calling for us to be voices of peace, healing and understanding, especially towards our Muslim compatriots, who have been directly and indirectly dissed an awful lot recently, what with the pot-shots being taken at Barack Obama of the middle name Hussein.
When I asked Her
What do You have to say to the world at this time?
She said:
Remember peace and understanding. The wheel is heavy, and turned by Fate now; events are large. You will be in need of cool heads and voices of reason and understanding; be that voice.
Well, that sounds to me like things are not necessarily going to get any calmer in the near future, unfortunately (though I am not surprised); the best we can do now I guess is try to be a calming influence.
What do you think?