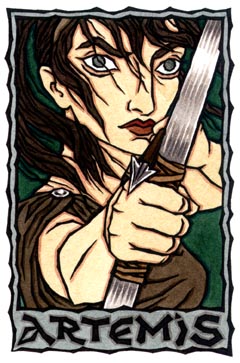 Artemis is this week's Goddess, chosen for the first time. She's Greek, the Goddess of wild things and of birth, and is so old She may well date back to the Neolithic.
Now, you'll have to forgive me. For some reason I spent the early part of this week not just an hour off but a day off (I spent all day Monday thinking it was Sunday, for example, and so forgot to renew my library books, then forgot that this post was supposed to have been done yesterday). And on top of that, right now, though I should be writing a long lovely post on Artemis I'm afraid I'm, well, not exactly feeling up to par physically, to the point where I think I'm going to actually go to bed early, something which is wildly uncharacteristic of me. So, although I don't have anywhere near the energy to do the usual write-up on Artemis for the week, still, since I had picked Her I thought I should at least let you know. Also I felt odd just leaving the card in limbo in an unpublished post.
Perhaps picking this card is relevant; I've always taken it to be a sign that it's time to honor and defend your boundaries, which are in part delineated by knowing where your limits lie. And right now I think I need to go lie down. Don't worry, I'm sure I'll be fine tomorrow.
In the meantime, why don't you all give an interpretation a go? What does Artemis mean to you? What do you feel when you see Her? What is She doing?
Why
is She doing it? What does this card say to you about the coming week? What does She say to
you?