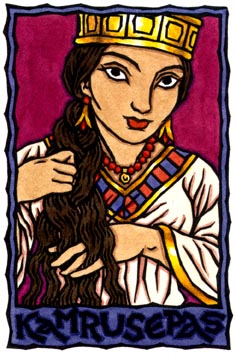 Well now. This
is
the
fifth
time
Kamrusepas has come up. Kamrusepas the Hittite Goddess of magic and healing, She Who cured the God Telipinu's anger, She Who is said to heal paralysis by loosening that which is bound.
And all this time when She has come up for Goddess of the Week I have talked about how She is a healer Who heals primarily through kindness and compassion.
When the other Gods were faced with Telipinu's absence, They sent a bee to bring Him back. Finding Him asleep, the bee woke Him up by stinging the God on His hands and feet. This did not, and this is a shock, make Him any less angry. It was Kamrusepas, finally, Who was able to bring Telipinu (and the fertility of the land He had taken with Him) back into the fold, by casting powerful spells to make His anger go from Him.
Now, the
first
time I drew this card, I had not tracked down the story in which Kamrusepas heals paralysis; however I found a version of it tonight, from
Images of Women in Antiquity
edited by Averil Cameron and Amélie Kuhrt (essay on Hittite birth rituals by Jackie Pringle).
In this story, both the Great River and the Storm God have 'bound' up the land and its fertility, in much the same way the land suffered when Telipinu was lost. Affected are the fish, mountains, clouds, lions, the milk of the antelope and the water of the Great River itself. Kamrusepas, upon being told of this, drove Her chariot to the Great River and performed an incantation, in which She loosened all that had been bound, and the land was restored to fertility and health.
The same source has this to say about Kamrusepas' name (she is spelling it here without the final S):
If Kamrusepa's name, with its typical -sepa suffix indicating a 'genius', may be correctly derived with Laroche (1947) from the Hittite word kammara- 'smoke, haze', we may see her originally as the divinised concept of the sacrificial and cleansing smoke that rose to the sky from burnt offerings, and by extension, of the ritual itself and representative of its human performers.
One of the ways Kamrusepas heals in the legends is by transferring illness from the afflicted person to something else, for example wheat, which is then burnt as an offering, the original harmful energy being safely released in another form. She represents that energy of transformation, cleansing, and unbinding, all within a ritual context.
The ritual part is striking me as important here, and I am reminded, somewhat guiltily, that I as a Witch have not done a working spell in some time; or at least, not a formal one.
But then something else hits me: in all this time writing about and contemplating Kamrusepas, I am astonished to realize that I have never thought to ask this very obvious question:
What is bound? What in your life needs to be loosened so that you may heal? What is stuck? What old magic needs to be released?
What is still bound?
She has been waiting politely all this time with a little smile on Her face, I can see it. All right, what do You have to say, Lady?
Ah, there we go. You are getting it now. Yes, that is it exactly. What is bound? When you can ask the correct question, you will get the correct answer. Just ask. I will unbind it, loosen it up, let the river flow again, easily, gently, with sweetness. This is about flow and about creating the space for good to flow into; bound is a word for full-up, stuck, tight and unmoving because there is nowhere for anything to go. What I do is exorcism, I suppose you could call it, if you wish to be dramatic. It is gentler than that, though, really, though do not mistake it as not powerful.

But yes. I am still keen on kindness, still wish to see it a part of your daily practice; and yes, I am here again as reminder. A gentle reminder.

But again, and this is important: if you can first see that which is bound, I can then loosen it. All you need do is ask.
What do you think? What within you is bound, especially in matters of health or anger? How might you go about loosening it? Can you think of some ideas for
un
binding spells?