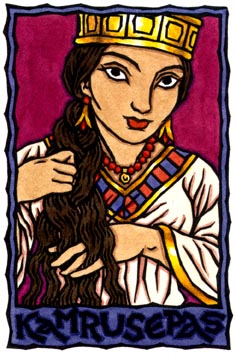 Good grief. I am starting to wonder. After all it
is
a homemade deck, of photocopies and bristol board assembled with rubber cement, and each card was cut out by hand; and a decidedly untrusting and un-magical thought has come to me. Is this card simply wider than the others and so more likely to be picked?
I do not think, really, that is what this is about. (And I did check Her card against the others. No, it is very much of average width.)
At any rate, this week's Goddess of the Week card is
again
Kamrusepas, the Hittite Goddess of magic and healing. She has come up three times already, on
December 27th,
a
week later,
and again on
February 28th.
She is remembered for bringing the Grain-God Telipinu back into the company of the Gods after He stormed off for some reason or other; and She cast an elaborate spell of healing and soothing which made His anger disappear.
Her message, in the past, has been one of kindness, especially towards ourselves. Of healing ourselves gently, steadily, thoroughly, and with compassion.
But I wonder. In my own life these are themes I'm working with, healing and unbinding and undoing past knots so that I can then invoke the new; and it is, I think, a big magic I am doing,
mise mi fein,
me myself. So it is hard not to take this personally, though I suppose in any reading the messages are both for the reader as well as the querant, in this case the world. And when I asked what She had to say
to the world,
this is what She said:
I am here because you are working Magic, and I love to see that. Deep magic, and not just you singular but all of you plural. There is powerful Magic being made in the world now. Not only the Magic of springtime and the turning seasons, but people-Magic. Something good and beautiful is coming into being, and so many of you have a hand in it.

Yes, I'm checking in again as a reminder; self-kindness should be as common as breakfast, or grounding rituals. Not something for special occasions, or only after everyone else has been taken care of; but first. It is ever important, that you are kind to yourself, yes, but it is vitally important now, that you do this, while this Great Magic is being made. And I will keep reminding you. This is a time of magic and healing. Now.

Yes, you are doing this. Yes, you are pushing it along. I am here to remind, to give the momentum that extra force. Things are moving, things are accelerating; it is spring now for many of you. And part of this movement is in undoing, yes, even as you are doing. How are you loosening paralysis? What has been bound that you are untying? What knots still need to be unpicked?

Mainly I am here, though, to offer encouragement, to let you know it is working and that things are moving. Yes, for you, but also for all the world--you do not think you are not part of it, do you? You are remarkably prescient if you would just trust it. Yes, all of you.
What is this Magic we are doing? What is your part in it?