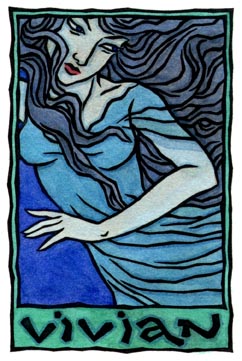 Vivian is the Lady of the Lake in the Arthurian legends. This is the first time She has come up as Goddess of the Week.
Her name is variously spelled as Vivian, Viviene, Niniane, Nimianae, Niviene, Nimue, &c. She was said to live at the bottom of a lake and to have been Lancelot's foster-mother, (which is why he was called 'du Lac') and to have given the magical sword Excalibur to Arthur. She was also the pupil and lover of the great magician Merlin; in time She became more powerful and learned than he, and imprisoned him in a tree or a cave, depending on the version of the story.
Now. I'm primarily concerned with Goddesses; and when I did the art for these, some dozen years ago now, well, first, I was operating with a fairly loose definition of 'Goddess', and, second, I was going more by intuition than anything else, which in this case, told me that Vivian, Nimue, &c., had Her origins in some sort of Celtic Goddess.
Which is probably true. However, tracking it down is nearly impossible. The Arthurian legends are extraordinarily dense and tangled, having both been transmitted orally back and forth between quite a few cultures, Irish, French, and Welsh to name a few, and copied and recopied in writing (frequently badly, with many misspellings and misreadings, which may account in large part for the myriad variations on Vivian's name, especially when you consider medieval styles of calligraphy, in which U, V, N, and M look very similar).
So in researching this, frankly, I'm over my head, and just about cross-eyed from trying to sort it out in a succinct manner. Still, I'll take a stab at it.
She is quite likely related to Morgan le Fay, at the very least as far as the elements to Her tale(s) goes; Morgan in turn may (or may not) have some affinity, or may derive from, the Irish Goddess Macha and/or the Mórrígan, and/or the Irish Modron ('the Mother'), famous as the mother of Mabon, Who derives (this one at least is certain, or as certain as these things get) from the Gaulish Matrona, Who gives Her name to the Marne River in France; Matrona in turn is related to the triple Matres of Gaul in the time of the Romans. That, at least, is (some of) the Morgan side of things.
She has also been linked to the Irish Bébinn, sometimes anglicized to Vivionn (though my
Dictionary of Celtic Mythology
by James McKillop says the Irish and French names are
not
related, others disagree); this name is one born by several women of Irish legend, one of Whom is an early Irish Goddess of childbirth.
None of this is clear cut, though. There are elements and influences from stories that reminded the tellers of others they had heard, and so were partly incorporated into their tales; and I'm sure the general idea of a sea, river, or lake Goddess or fairy got stuck in there somewhere.
Perhaps this doesn't matter that much, and I should just concentrate on Her role in Arthuriana; but I like origins, and digging. It is tangled, and perhaps cannot be separated. And maybe that is the message this week. At the river's mouth, who can say what part of the water originated in which stream?
I would expect this week to be rather tangled then, but rich. The search is nourishing, even if you don't get to the bottom of things. A big part of the Arthurian appeal is the longing for an older, more magical time, one that is (supposedly) long past. I do not know to what extent this is actually an illusion; but enjoy the pleasant melancholy anyway, if you can.
Though keep in mind, also, that it may be a distraction from the real heart of the matter. It is the week after Beltaine after all, and the faeries are said to be out and about; and they are tricksy types. Try to keep a clear head.
What does She say?
Of course I'm a Goddess.

Trace back and back yet there is no real source is there? All the water on this earth has been around and around the globe many many times. All waters are one water. This is the key part you must remember.

There are no clear boundaries, either, with water. It all flows into itself and a line may not be drawn. By nature it is always in-between.

Remember, also, that a good deal of your body is water. This is your nature too.
What do you think?
References:

Dictionary of Celtic Mythology by James MacKillop.

"Morgain La Fee and the Celtic Goddesses," by Roger S. Loomis. Speculum, Vol. 20, No. 2 (Apr., 1945)