I am in the middle of rethinking what I want to do with that Goddess deck of mine. I mean, not to worry, I still plan to publish, finish the book, &c; but lately I've been looking at the thing as a whole, trying to bring it into some kind of balance. To that end I've decided to swap a few cards out, mostly the monotheistic sorts, to make room for some other Goddesses. First one so far: I'm switching the Black Virgin out, and replacing her with Kybele. Here She is: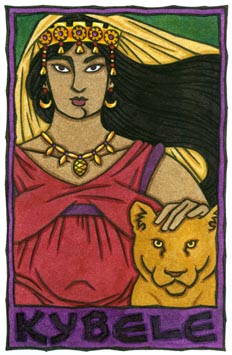 My version of the Black Virgin had strong elements of Kybele anyway, but I think I'd rather have the real thing. I did most of this last week sometime, then put it down, not sure if I liked it; but tonight I went back in and finished it, tweaking the colors and putting in those darker outliney sort of shadows. It's amazing to me how those little shadows always make the thing look dramatically better. It's exponential, I swear.
So, this Kybele (I'm using the Greek spelling rather than the Roman 'Cybele') is sort of a combination of the Roman imagery, which usually shows Her enthroned with a lion, and the very very
very
ancient and startlingly similar image of the Neolithic Goddess from Çatal Höyük (from, seriously,
6000-5500 BCE),
thus:
(Image from Wikipedia, by one Roweromaniak)
I do like Her (and I like Her more the longer it goes), but I'm not sure if She's quite
rattle rattle BOOM!!
enough. It's a little weird; Kybele has a reputation for wildness, but all the statues of Her (the Roman ones, anyway) are very staid and proper looking, with the stately pose, the throne, and the mural crown. So it's a little tricky.
Still, I think I do like Her.
And, oh yes, a pine cone for Attis.