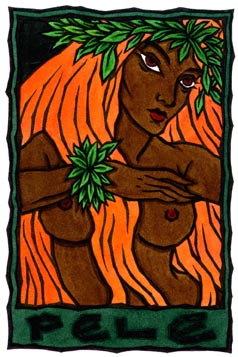 This week it is again Pele, the Hawaiian Volcano-Goddess; She is the latest in a string of repeated Goddesses. Last time I picked Her,
three weeks ago,
She spoke of change and adaptation and anger.
I think we are in a turbulent time right now, and I mean not just the times in general but
this week
in particular. Something old is being destroyed, and is coming to an end,
right now.
And it is a
big
change.
Something is boiling over.
One thing I'm seeing is that this past week there seems to be a rash of Dudes Who Can't Handle It. You know the type--something bad happens in their life and so they open fire on nursing home residents, immigrants, strangers, their own children. Sometimes they kill themselves, too. (Though
really,
I can't help thinking, can't they just do that bit first? You know, and spare the rest of us all the misery? But then spreading the misery around is the
point,
isn't it?)
It's entitlement clashing with the reality of a painful life, or a negative change; and instead of changing themselves to fit, or adjusting their expectations, they decide the
world
is the one that has to change.
This is a peculiarly
male
phenomenon in this society. And I'm afraid I have
no
sympathy for men who do this; even less when I read the articles, which are usually careful to point out in what way the man was 'driven' to it. 'Driven,' really? As if it's all understandable, all justifiable, and the man had no choice.
Yeah, well, I call bullshit on that.
Something is boiling over.
The thing about volcanoes, about Kilauea, is that you cannot make them adjust to you. A lava flow will do as it likes; you cannot stop it, and it will destroy anything that does not move.
So you move.
You get the hell out of its way. And you don't expect anything else.
Also I cannot help but think this card is about the Earth pushing back. We have abused Her for so long; and in some ways it is already all coming undone.
I don't know; that's not exactly cheery, is it? I don't know what advice to give that doesn't sound like I'm telling us to devote our time to quelling a mutiny on a rapidly sinking ship.
What does She say?
Oh honey, it's not that bad. Though, my idea of bad and yours are probably different, true. But as something is destroyed remember that something else is born. To be reborn you must first die, remember? Your resistance is what will make it difficult, or less difficult. Sorry, it's true; easy is not an option right now. Okay maybe it is that bad. The world will end in fire, you know that, right?
Oh great. The only thing I can think of that might help is to look at what is going on, as honestly, as bravely, and as humbly as possible (there is no room for ego in this), and then being willing to change.
That and that we support each other.
That,
I think, is crucial.