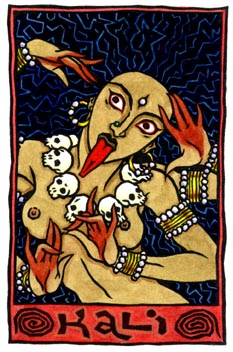 This week's Goddess is Kali again, the Hindu Goddess of destruction and death, showing up for the second time in a month as the year tips towards the dark here in the north.
The first time
She was here was only the week before last; in between Her appearances we have had
Sunna,
the Germanic Sun Goddess. We have been taken to the black Void, then to the brightest Light, then back to the black Void. I do not know what is going on here.
Kali is the Goddess Who represents that which is outside of civilization and society, the messy reality of things which don't fit into the neat categories we create. She reminds us that those messy things are also necessary, sacred, and a part of the whole.
Though She is unquestionably destructive and horrific, as the primeval Void, She is also infinite potential. The waters of the underworld, where embryonic demons wait to be incarnated, are said to be Her womb, and indeed as I mentioned in the earlier post, Kali is revered in Tantrism as the
shakti
or primordial female principle, She Who underlies all reality, and Who is both formless and unmanifested, and manifested in infinite forms.
Maybe it's the time of year; after all at the equinoxes both hemispheres see day and night, the light and the dark in balance. This time of year is about just that, balance, not just the shifting seasons, in the growing or fading warmth, or the growth or death of the plants, but in the emphasis, the weight of things moving into another position. Autumn is here in the north, and summer has ended; and we must change ourselves to fit it.
Look this week to both your darkest dark and your brightest light. Find out how they are joined, and how they move in balance (for they are not static) to make a complete whole. Though you may not have to look very far; the 'energy' now feels pretty unsettled to me, and they may very well make themselves known all on their own. Try to take it in stride, I guess.
What does She say?

I am here, always here. I am the root and the dark; I am at the bottom of all things. And yet, go far enough down in the cold Earth and you will find heat and light, will you not? Within is without. You know this by now.

But look on the black side! Not all is blinding-brightness and burning heat. The dark can be very soothing, and offers healing and renewal in its own way. Things are waiting to be born in the lightless waters. Call them forth! Receive them! Be willing! For They will come anyway. And remember that when something is born, something else dies.

That is as it must be. Do not pretend to be surprised.

Well. What do you think?