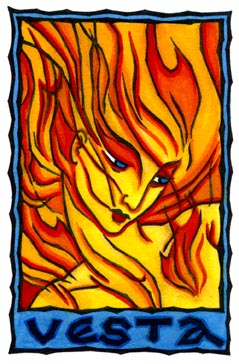 This is the first time Vesta, the Roman Goddess of fire and the hearth, has come up. She held a central place in Roman religion: Her round
tholos
temple was set in the heart of the Roman Forum, and a perpetual flame was kept burning there. She has Her equivalent in the Greek Hestia, and unlike many of the other Roman Deities Who were equated to Greek ones, the two do seem to stem from the same root, and have some similarities in worship as well as name. As the hearth is the primeval altar, both Vesta and Hestia held places of honor in rituals involving more than one Deity, if at opposite ends of the rite: for while the Greeks invoked Her first in ritual, the Romans invoked Her last.
As Goddess of the hearth and the hearth-fire Vesta represents the heart and the center of the community, whether the home and family or the state. She also symbolizes the communal meal, as the hearth is where bread was baked; and in time She became somewhat of a patroness of bakers. On Her holiday on June 9th (just last week!) millstones were decorated with garlands, and loaves were hung about necks of the asses responsible for turning them.
She was one of the few Roman Deities to have no image; the naked flame was taken to represent Her.
I think this week is about being grounded in fire, though that may sound an odd thing to say. Vesta is about the center and the hearth and the flame that burns there. One normally grounds in relation to the earth; but remember that at the center of this planet deep fire burns. Tap into your own fire this week; it will be more centering and more stabilizing than you might think.
Vesta's rites were overseen by women: the famous college of Vestal Virgins. It was women's work to hold the center of Rome sacred and true. Remember that also this week.
What does She say?
Burn hot, burn warm, burn fierce, burn gently. All of these things are Me. I hold to the center; it all turns around Me. I am first and I am last if you are to do anything well and truly. Honor Me by honoring the sacred fire at your own center, your heart, the fire in your belly, that infinitesimal yet infinite Star at the center of the Soul. I live in each of you. Honor Me by honoring yourself.
Reference:

Dumézil, Archaic Roman Religion